Start discussing a technical topic and watch as people's eyes glaze over, even if those people are fully aware that it's something they should be paying attention to. Embarking on a path toward a more sustainable and energy efficient hotel operation qualifies as one of these 'glazed' subjects, so to eliminate any possibility of eyelid fatigue, let's talk about this extremely important issue in terms of something just a bit more fun –golf.
A Golf Analogy
Tired of listening to your old college buddies boast about how well they're scoring on the course, you finally decide to up your game. All indications are that they're tearing it up every time they play, so the first thing you must do is to find out just how good your friends actually are. Establishing their handicaps in the range of 15 to 23, this still doesn't give you – the sans-handicap learner – an accurate barometer for whether they are better than you or not. Maybe before buying that new $1,400 set of clubs everyone said you had to have, it might be smart to wait and see where you stand.
So, you go out and establish your handicap over the next several weeks. Lo and behold, yours turns out to be a 21! Certainly not the best of the group, but not the worst either. Now, though, you're wondering how you can lower that handicap so you become the best of your peers.
You could just go out and play more, but that hasn't proven effective for the last two decades, so why would it work now? No, you need to think this through and have a plan. That's the only sure way to make this happen. Thus, you opt for lessons to help improve your approach.
After finding the right golf professional, you meet him on the driving range. Driving, long irons, chipping and putting – he looks over your whole repertoire. Then he suggests five ways to improve your game substantially such as changing your stance, bigger hip turns, higher follow-through, new grips for your irons and purchasing one of those rescue/hybrid clubs. Pretty simple stuff, and it won't cost you a fortune either.
Armed with these new tools, you start playing with your new hybrid club, irons with new grips, and your newly revamped swing. Things just feel better on the course, and your scores begin to drop! Moreover, as you report these scores, your handicap also falls. Before you know it, you've improved your handicap to a 14, and it didn't take a $400 driver or a $1,000 set of new irons to get there!
Ultimately, you possess the lowest handicap among your friends, and the sweet smell of success only makes you want more. Alas, it's time to reassess. You go back to your golf pro with a new goal – a single digit handicap. From there, you begin the whole process anew.
Applying Golf To Energy Management
Going through this process of golfing improvement is the exact same methodology used in every successful energy management plan. Call it Energy Management 101. It all starts by establishing your handicap – your energy benchmark. By comparing your hotel's performance against a known quantity or previously established average, you can tell how well or how poorly your hotel is performing. That benchmark could be last year's energy consumption of sister hotels or it could be the EPA's Energy Star system of measure. Both enable you to generate a true plan of attack because you now know the severity of the problem.
The plan can be simple – I need to get some professional help – or complex depending on your needs. Either way, it should include specific, handicap-lowering goals so that you and others can refer back to it over time. Choosing a professional for energy management consultation isn't much different than choosing who can help you best with your golf game. You can select a vendor but that's like asking the salesman at Golfsmith to help you with your handicap. Every solution he'll propose will involve the purchase of his stuff.
Like the selection of golf pro, it's usually best to go with someone whose only business is helping you achieve a better energy score by whatever means necessary. That would be your professional energy engineer or an external consultant. He or she is the one who will be able to assess your hotel's performance and suggest changes to your overall stance – that is, your approach – to energy management, changes in your swing – your operations – changes in maintenance practices and recommendations for new equipment.
Then you can put all of that in practice and watch as your energy score improves while your energy spend simultaneously decreases. Then, after reaping the rewards of a successful energy season, it's time to reassess. Do you want to go for more? If so, you just start this process all over again. It's that easy!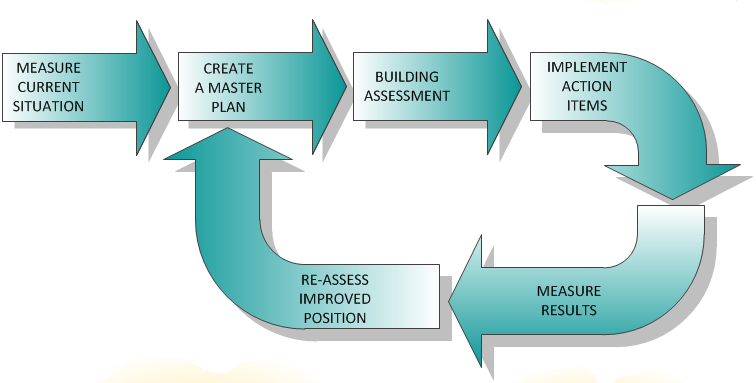 Energy Management Step By Step
This above diagram succinctly illustrates this energy saving process, and each step is expanded below.
Measure current situation. Before embarking on any plan of attack, take time to understand what your current situation is. It may be better or worse than you think. Only when you are confident of your current status can you begin to assemble a plan to improve it. Benchmarking current operations is typically the best way to start.
Create a master plan. Once a basic picture emerges of how the facilities are performing, a plan can be put in place to establish energy policy, realistic goals and targets, and key performance indicators.
Building assessment. With a plan in place and agreed upon by all stakeholders, it can thus move forward. Building assessments bring to light action items with the best financial outcomes.
Implement action items. Energy conservation measures (ECMs) gleaned from the assessments should now be ranked and implemented according to the master plan.
Measure results. After implementation, it's time to measure success. Determine how well the energy conservation measures that were put in place worked to save energy.
Reassess improved position. Unless the original plan specified solutions to all deficiencies, there probably is still some work left to be done. Review where the facility is after upgrades and where the improvements left you relative to your goals. Then, go back to the plan, revise as necessary and begin the next phase of energy efficiency measures.
Putting It In Practice
The Ritz-Carlton Hotel Company followed this plan with outstanding results. Several years ago, Ritz-Carlton management decided that even a super luxury hotel chain could rein in its ever-expanding energy budget. They had already benchmarked each property's energy use, but they had never gotten serious about doing anything aside from small one-off projects. So, they sat down and came up with a plan that set a goal of 9% energy savings over a three-year period.
The plan would lead to energy assessments of all 32 North American properties, resulting in 790 potential energy conservation measures (ECMs) of which 433 were implemented. Then, Ritz-Carlton began measuring their results. Over the life of the three-year program, they achieved a 13% energy reduction and saved over $11 million in energy costs.
All told, this strategy and execution is nothing more than Energy Management 101. The process works and you can apply it today for remarkable long-term benefits.
---
About the Author
Jim Gieselman is a former member of Cayuga Hospitality Consultants.
Contact Us
Share
Related Articles & Case Studies